18:00 CARDIFF 24 – 13 SWANSEA
With all of the day's results now confirmed, the score in the Welsh Varsity Shield is Cardiff 24, Swansea 13.
Cardiff have retained the Varsity Shield.
Rowing – CARDIFF
Equestrian – CARDIFF
Cycling – SWANSEA
Boxing – SWANSEA
Shooting – SWANSEA
Men's Badminton – DRAW
Ladies' Badminton – CARDIFF
Netball – CARDIFF
Sailing – SWANSEA
Swimming – SWANSEA
Taekwondo – CARDIFF
Men's Tennis – CARDIFF
Ladies' Tennis – CARDIFF
Golf – SWANSEA
Ladies' Volleyball – SWANSEA
Cricket – CARDIFF
Men's Squash – CARDIFF
Men's Ultimate Frisbee – CARDIFF
Ladies' Basketball – CARDIFF
Men's Fencing – SWANSEA
Men's Football – DRAW
American Football – CARDIFF
Ladies' Lacrosse – CARDIFF
Ladies' Ultimate Frisbee – CARDIFF
IMG Football – SWANSEA
Ladies' Hockey – CARDIFF
Ladies' Rugby – CARDIFF
Men's Volleyball – CARDIFF
Canoe Polo – CARDIFF
Ladies' Squash – CARDIFF
Men's Basketball – CARDIFF
Ladies' Football – SWANSEA
Men's Lacrosse – CARDIFF
Freshers' Rugby – SWANSEA
Ladies' Fencing – CARDIFF
Men's Hockey – SWANSEA
Men's Rugby – CARDIFF
17:40 Have Cardiff already won the Varsity Shield?
As excitement for the Varsity Cup builds and fans start heading towards the Liberty Stadium, we are getting a clearer picture of the contest for the Varsity Shield.
According to our calculations, the current score is 20 victories to Cardiff and 11 to Swansea, with two draws bringing the score to 21-12. With four results undeclared, it looks like Team Cardiff will be taking the Varsity Shield back down the M4.
17:30 Hour and a half to go until men's rugby kick off
At 7pm, Cardiff and Swansea's 1st XVs will kick off at the Liberty Stadium to decide the winner of this year's Varsity Cup. Both tams are currently going through their very final preparations and the coaches imparting their final words of wisdom.
Swansea have won in each of the last two years, can they defend their crown or will Cardiff reclaim it?
Pic: @CardiffUni_RFC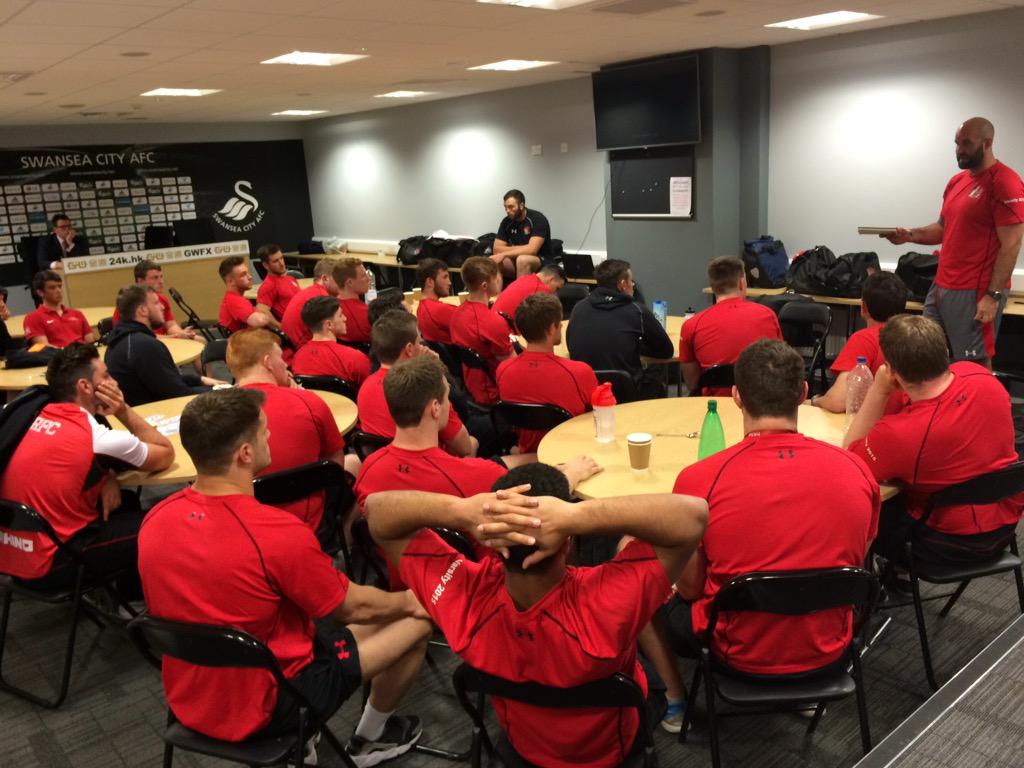 16:50 Swansea edge dramatic men's hockey game
The only thing the men's hockey match was short of was goals, as Swansea's single goal was enough to secure victory. There was some drama in the first half with Cardiff finding the back of the goal, but the shot being disallowed for being outside the D, but it was after half time that things really began to hot up.
Cardiff's keeper was shown the yellow card and had to spend 10 minutes in the sin bin. During this 10 minutes, Swansea scored the only goal of the game from a short corner to take them in front, only to have a yellow card of their own moments later for a high elbow.
As soon as Cardiff were returned to full strength, there was another yellow card for a Cardiff player. While a man down, Cardiff thought they had scored the equalising goal, only for this to also be disallowed for being outside the D. Cardiff continued to apply pressure in the last minutes of the game and had a shot sail slightly over the bar in the dying moments.
After so much drama and an enormous amount of effort from players on both teams, the scoreline of 1-0 to Swansea is not representative of the game as a whole.
16:40 Another hourly update!
We have been doing our best to catch up with some of the results we missed earlier and try to get a picture of how the Varsity Shield score is currently looking. These are the results we have so far.
– Cardiff put in a dominant performance in ladies' lacrosse, winning 18-4.
– The reds and greens could not be separated in the women's hockey, with the game ending 0-0. It then went to penalty flicks and Cardiff secured the point.
– Swansea were the dominant side in ladies' football, winning 3-0.
– The golf competition that has been continuing throughout the day was won by Swansea by a score of 7.5 to 2.5.
– Cardiff whitewashed Swansea in women's squash, winning 4-0.
Shield calculations are ongoing.
15:40 A recap of results from the last hour
Events have been reaching their conclusions thick and fast in the last hour. We've been doing our best to tweet score updates and results through @GairRhyddSport, but have been lacking on the blog front in the last hour so here's an update.
– Swansea took the IMG football 2-1 and there have been reports of some trouble among spectators after the game.
– Cardiff women's basketball team staged a highly impressive comeback, after arriving late to their game, to eventually take the win 51-48.
– Cardiff took a fairly dominant 5-1 victory in the men's tennis.
– In the American football, Cardiff Cobras took an early lead and just about managed to defend it from a resurgent Swansea Titans side; the Cobras eventually winning 19-17.
– In contrast to the women's game, there was a straight-sets victory for Cardiff's men's volleyball team.
– The epee proved to be the dividing factor in the men's fencing. The scores were tied at 90-all after the foil and sabre, but Swansea took the win overall 135-118.
Lots more games will be reaching a conclusion over the next two hours and we will do our best to keep you informed!
14:40 Cardiff take ladies' rugby win
An early penalty to Cardiff put them 3-0 up, with a period of stale play following. Two penalty successes for Swansea put them in front and opened up the scoring once more – though it mostly went in Cardiff's favour.
Cardiff went on to score four tries in total en route to their 29-12 victory. Though this is an impressive margin of victory, it does not come close to Cardiff's obliteration of Swansea by 50 points at last year's Varsity.
Pic: @CardiffUniSport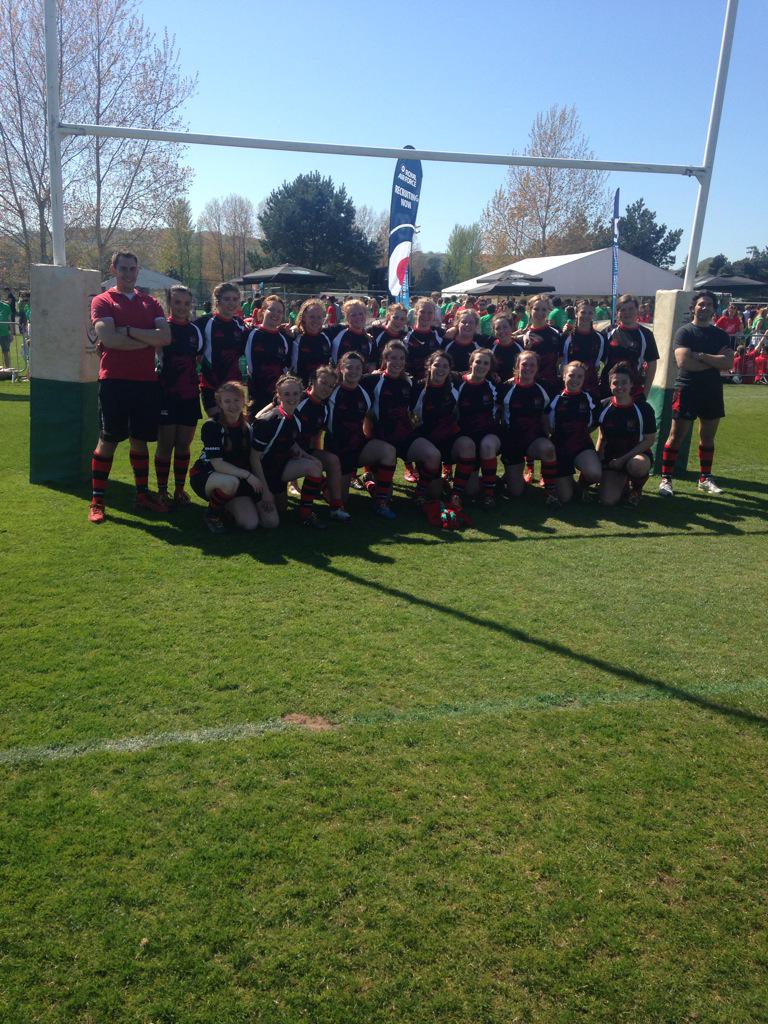 14:10 Canoe polo goes to Cardiff
After some anxiety over whether they would be able to make a bus to get them to Swansea in time for their fixtures, Cardiff won the canoe polo overall 2-1, with their men's and women's teams getting the better of Swansea but their freshers' side losing out.
The freshers were the first to take to the water and in a high intensity and somewhat scrappy match, with multiple Cardiff players ending up swimming rather than paddling, and a Swansea player green carded for time wasting. The final scoreline was 5-2 to Swansea.
In the ladies' game, Cardiff came out hard and pounded the Swansea goal, with Rhiannon Tapp scoring the opener. Again there was the usual physical element to the game with both teams receiving green cards. Rheanna Collier backed up Tapp's goal in the second half before Swansea clawed one back. Collier then scored a second to consolidate Cardiff's lead, with the game finishing 3-1.
With the overall score level at 1-1, the result rested on the final men's game. In this game, Cardiff were utterly dominant, hammering in six goals through Blake May, Louis Frost, Alex Bukvic and Tristan Harper, with Vaughan Roberts offering plenty of assistance.
14:00 Narrow win for Cardiff in men's squash
First blood went to Cardiff in the men's squash, as Kieran Collinson took down Sam Rooks 3-0, but Swansea immediately levelled it by taking the second game 2-1, with Angus White beaten by Pierse Herrod.
Club president Rees Herrod took Cardiff back into the lead with a 3-1 win before the scores were levelled again when Jason Matthews lost to Swansea's Cam Brian. This piled the pressure onto Cardiff's final player Adam Doran, up against Swansea's Jamie Johnson. Doran coped admirably to win 3-0 and seal the point for Cardiff.
There was an added element of interest in this fixture, as it featured brothers playing on opposite teams: Swansea's Pierse Herrod and Cardiff's Rees Herrod.
13:55 Cardiff win cricket by five runs
Cardiff maintain their unbeaten record in Varsity cricket, winning by five runs. Swansea's response got off to a great start, with Cardiff struggling to find the right areas in their bowling. One of the Swansea openers then retired hurt, and the end of that partnership helped Cardiff to a flurry of wickets.
Tight bowling was required in the final overs to shut Swansea out, and this was provided by the bowling partnership of Kent and Aston. Even scoring 14 off the last over was not enough to save the Swansea innings.
Pic: Rory Benson

13:50 A draw in the men's football
A draw seemed to be the only appropriate result in the men's football at Sketty Lane, with the two teams fairly evenly matched.
Cardiff scored the only goal of the first half, finding the back of the net within the first ten minutes. They managed to defend that lead for a full 60 minutes before Swansea struck back and then immediately took a 2-1 lead.
In the closing stages, Cardiff managed to level the scores once again and 2-2 was how the game finished. While both teams will be a little disappointed not to have secured a full point towards the Shield, there will certainly be a bit of relief for Team Cardiff after they lost this fixture last year.
Pic: @CardiffUniSport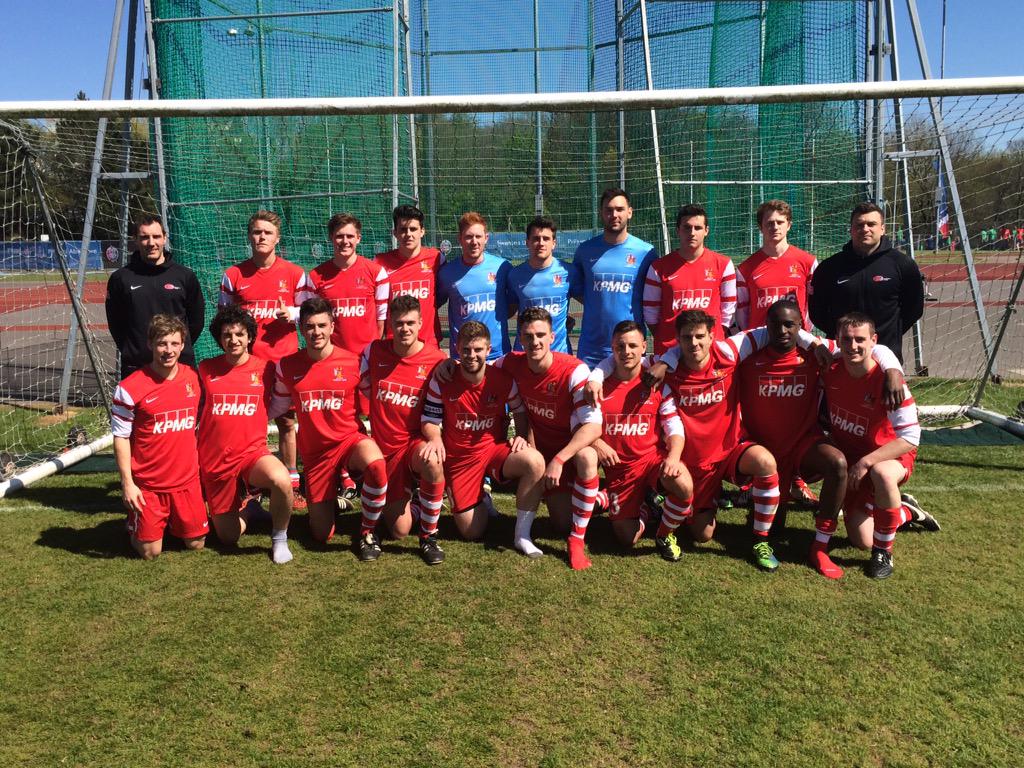 13:00 Cardiff close innings on 149-5
Players and spectators are enjoying perfect weather for cricket today, and Cardiff did well to make 149-5 on a difficult track. Swansea had plenty of chances early on, but couldn't hold on to their catches, allowing Turley to smash the high score of 82. Turley's was one of a number of wickets to fall in the last few overs, as Swansea seemed to find their groove a little too late.
Swansea are now batting, and have made 27-0 after four overs.
12:30 First draw of Varsity 2015 in men's badminton
There's always at least one split point in Varsity and this year it's the turn of men's badminton. After all singles and doubles games were completed, Cardiff and Swansea could not be separated, splitting the eight matches, four apiece.
12:20 Cardiff dominate ladies' badminton
Hannah Chow took Cardiff ladies' badminton straight into the lead in today's opening game at 10am, and her teammates followed up with a string of victories in both singles and doubles matches. Swansea managed to get the better of Cardiff in only one match, handing the girls in red a dominant 7-1 victory.
12:15 Swansea take sailing
Swansea's sailors took full advantage of home water at Tata. After Swansea took the first two races, Cardiff bravely fought back to keep themselves in contention. Swansea proved to be the more consistent team overall and eventually won by a margin of 6 wins to 3.
Pic: @CUsailingclub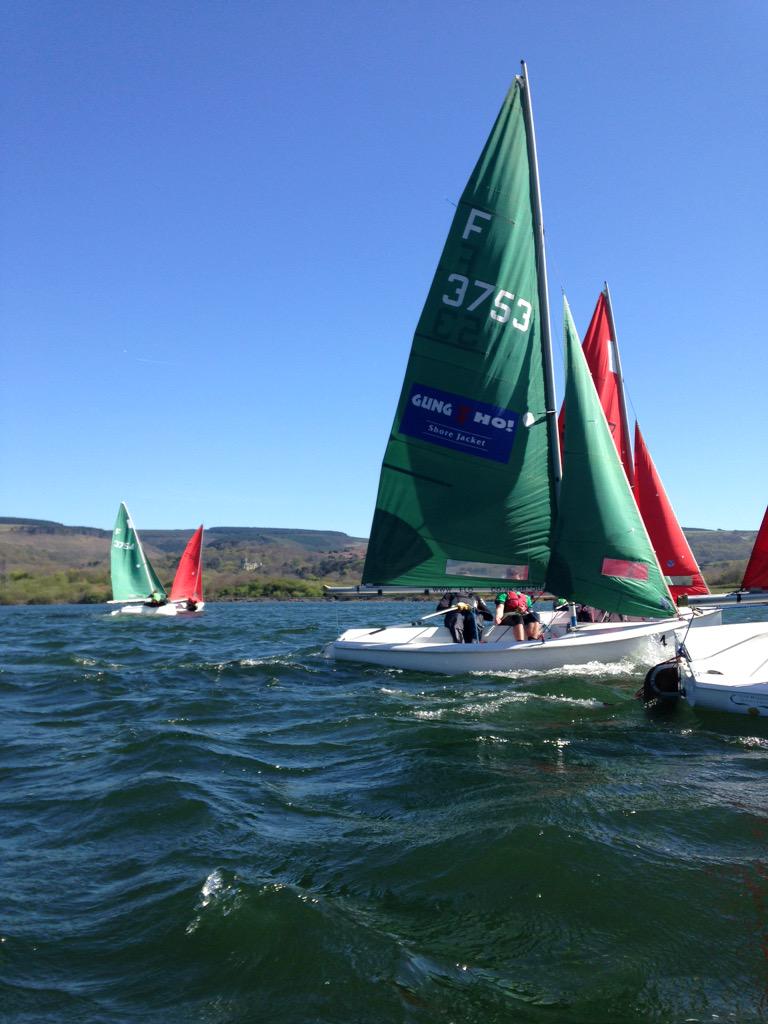 12:10 Cardiff win men's Ultimate Frisbee
After a fairly evenly matched opening, Cardiff edged into an 8-6 lead at half time. Clearly taking confidence from their advantage, Cardiff kept up the scoring while limiting Swansea to eventually take a 13-7 lead.
Pic: @cardiffstudents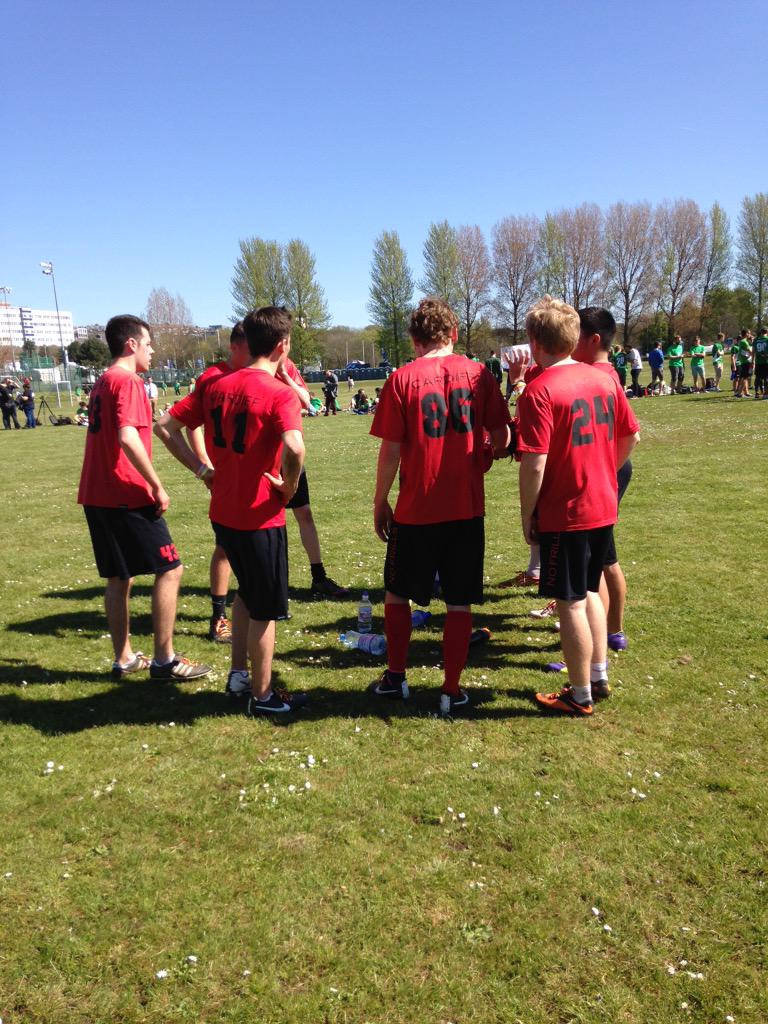 12:00 Cardiff take taekwondo point
Cardiff have immediately levelled the overall score again, taking the win in the taekwondo at the Pavilion.
Taekwondo's Varsity is contested over two stages: patterns and sparring. Cardiff took the lead after the patterns, with 6 individual wins to 2 and one team win each. Swansea staged a fightback when the sparring got underway, but Cardiff eventually won that stage too, by 5 wins to 4. This brought the overall score to 12-7 in Cardiff's favour and secured them the point.
Pic: Joe Atkinson

11:45 Swimming goes to Swansea
Swansea take their first win of Varsity day and go back into the lead overall, 3 wins to 2. The final score at the National Pool was 195 points to 151.
11:20 Cardiff take netball victory
The win was never in doubt for the Cardiff ladies in the netball at Sketty Lane's main hall. They raced into an early lead and dominated scoring in the first and third quarters. The scores at the end of the first each quarter were were 16-2, 20-5 and 42-6. Swansea showed they had some fight in the final quarter, making the final score 47-7 to Cardiff.
This levels the scores in the Varsity Shield at 3-all.
Pic: @cardiffunisport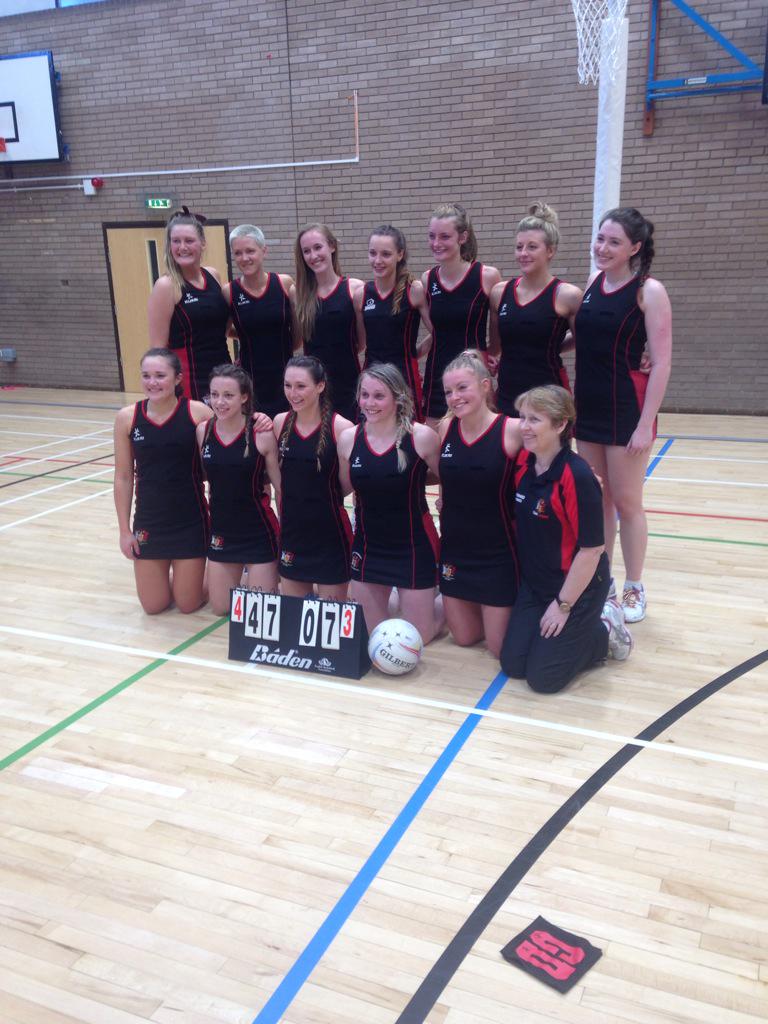 10:00 Varsity 2015 is underway!
Varsity day 2015 is now underway, with six sports – badminton, netball, sailing, tennis, swimming and taekwondo – starting the day's action.
SWANSEA 3 – 2 CARDIFF
Good morning and welcome to Varsity day 2015! Today's events are due to get underway at 10am, and we will be bringing you score updates and results as they happen.
The score in the Varsity Shield currently stands at 3-2 to Swansea. Cardiff took the points in rowing on Saturday and equestrian on Monday to go 2-0 up, before Swansea staged a comeback by winning cycling (held in Cardiff) and boxing, also both held on Monday, to tie the score at 2-all. Swansea then took victory in shooting last night to break the deadlock and go into the lead overnight.
It's still all to play for with 30 points up for grabs today, concluding with the Varsity Cup men's rugby match at the Liberty Stadium this evening.