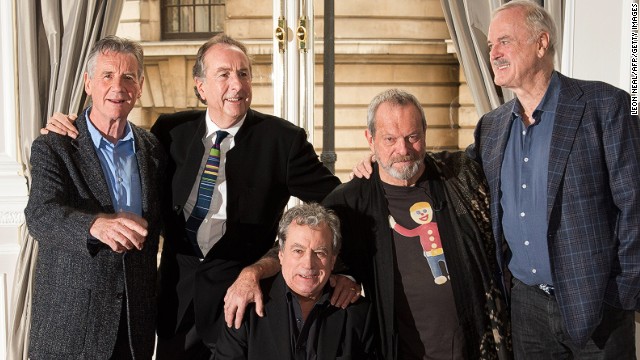 It was comedy's answer to the Led Zeppelin reunion. Michael Palin, Eric Idle, John Cleese, Terry Gilliam and Terry Jones announced in November that, despite the death of Graham Chapman in 1989, Monty Python would be reuniting for a show at London's O2 Arena. Selling out the venue in less than a minute to British comedy fans and shameful ticket touts alike, demand for the eccentric comedy group was so high that a further nine dates at the arena were announced. But following public scepticism from Gilliam one month in advance, would the group still be able to do their old material justice?
Following an overture by the live band performing, the five comedians take to the stage in suits to perform the llama sketch, which whilst well received, served to pave the way for the following Four Yorkshiremen sketch. "Who thought forty years ago we'd be sitting here doing Monty Python," Idle jokes, letting the audience know that they are well aware of their surroundings.
From there it's a non-stop barrage of classic comedy sketches. "G'Day Bruce" sees giant plush Fosters' cans being thrown into the crowd and makes references to the "Oz" Arena, there are new transitions of the lion tamer sketch into lumberjack song or the dead parrot sketch into the cheese shop sketch. And while Cleese's back problems mean there's no ministry of silly walks sketch in the traditional format, there are lots of silly walkers to choreograph new song 'Money is the Root of Evil'. Unfortunately Cleese was one of the show's weak points; many of his jokes did not come up to par, which is sad when considering how much of the show's humour depends on his booming voice. However Idle's distinctive voice, Gilliam's animations (showing on screen) and all members' tastes for cross dressing still have the power to entertain.
Pulling out all the stops with a Flying Circus stage setup, videos to enhance songs and even an onstage appearance from Stephen Fry in the Blackmail sketch, the show comes to an end with their 'Stairway to Heaven' in a similar way to how Life of Brian ended: 'Always Look on the Bright Side of Life', a sing/whistle-along that is the perfect finale. This is a set of shows purely about making money, but when shows are this entertaining, who cares about the motives?