As part of the BFI Love Season, Chapter Arts Centre in Cardiff have screened a choice selection of films spanning from 'tainted love' to classic romance. Quench reviews a handful of these films.
To find out which exciting films Chapter are currently screening, and information on upcoming seasons, visit http://www.chapter.org/whats-on/ .
---
Brief Encounter (1945)
As part of the BFI Love season, Chapter Arts Centre screened Brief Encounter, David Lean's 1945 romance which remains an archetype for films concerned with love affairs and heartache.
A chance meeting between Dr. Alec Harvey (Trevor Howard) and homemaker Laura Jesson (Celia Johnson) at Milford railway station begins an emotional romance, as two married people with children, somewhat disenchanted, find another like themselves. This acquaintanceship deepens into love due to their similarities, shared understanding and the excitement for these forbidden feelings. The taboo of marital infidelity is explored with nuance and sensitivity, with the affair going unconsummated and the stability of Laura's family life being a central concern for her. Their relationship is purely to do with matters of the heart, and these are set against reality; the time they can be together is interrupted by train schedules, external engagements and supporting characters that are all but oblivious to the conflict within Laura, whom we follow throughout the film. Her anguished and wistful voice-over narrations draw us into the conflict within her mind as she contends with her desires and sensibilities, the irrational draw to Alec and her commitment to her model family.
It is unsurprising that Brief Encounter is often thought of as the quintessential romance film. Every aspect is heart-rending, and combines to create a perfect portrayal of a singular matter of the heart. A film score, with the recurring theme of Piano Concerto No. 2 by Sergei Rachmaninoff, swells along with the anguish of Laura which is projected to us through the retrospective narrations and cheerless wide eyes that gaze out of train carriage windows and to the smoky Milford station. A middle-ground representative of fleetingness, it is a setting for excitement and chance encounters, but also commitments to move on and leave others behind. Alec and Laura are constantly being brought together and pulled from one another at these platforms.
Brief Encounter is a simple, doomed tale about meeting the right person at the wrong time in your life. It is a fantasy for audiences, and plays to our curiosities; if we pursue someone we shouldn't, if we follow our hearts when our minds and surroundings tell us not to, if we sabotage ourselves in the name of love, is the outcome not the inevitable? Yes, and it is heartbreaking. David Lean's beautiful portrayal of romance and the realities that challenge this allows this film to remain timeless.
Sadia Pineda Hameed
---
Letters From an Unknown Woman (1948)
Letter from an Unknown Woman is a film which is full of enigma, both for the audience and the characters. The story begins with the protagonist Stefan, a once-promising but now downwardly-spiralling composer, waiting for an ominous coach call. Whilst counting down the minutes on the clock, he comes across a letter addressed to him, from an 'unknown woman'. And thus begins a decade-spanning tale of unrequited and repressed love. The audience begin to learn about Lisa, the unknown woman, who has remained shrouded in mystery to Stefan for all these years. We learn about how she studied famous composers, took dance classes and spent hours outside his apartment waiting for him in an attempt for him to notice her; only to be ignored by the famous, suave composer. From a contemporary perspective, the lengths that Lisa goes to may appear extravagant, even obsessive. And when she recounts their reunion years ago, he doesn't even recognise her, turning the conventional love story on its head. But where the narrative and character roles appear questionable, the visuals overpower – with the shots of the rain in the opening scene, the intricate Viennese garden set and the wisps of smoke trailing from cigarette ends making the largest impact.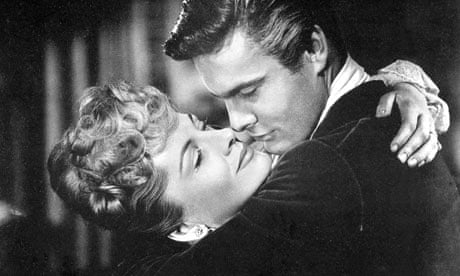 At times the film appears slightly out of focus and grainy on the screen, but when viewed in a more intimate screen and in the velour seats at Chapter, I think that this adds to the nostalgic quality that the film evokes. The ending of the film brings out a certain kind of tragedy, for the two lovers (if one may call them that) are not given the privilege of one final embrace; undercutting any expected idealised romanticism. But this is perhaps why Chapter chose to show this film in particular as part of the BFI's Love Season: it is not the grand, predictable love story that is so often seen. It becomes a drama and a mystery instead, with a rich, puzzling narrative that the audience pieces together along with Stefan. By the end of the film the 'unknown woman' becomes, quite literally, to the audience and Stefan, the 'known woman'.
Sophie Ellis
---
Doctor Zhivago (1965)
Doctor Zhivago is one of those films I had heard of, never seen, but assumed I had probably seen a bit of it at some point and shrugged it off. If you, like me, think similarly, I would urge you to change your mind and go and see it as soon as you can. I believe, now, that this is one of those films that will change the way you look at life- history, love, politics, class, marriage, and so much more.
I don't want to spoil the film too much for you here, because I really want you to experience it for yourself. It was made in 1965, but due to a humongous budget it feels timeless. A real epic, it spans the pre-WW1 years in Russia through to approximately the 1950s, where a general in the Soviet army is overseeing the construction of a dam. The film was originally promoted as a love story, but to say that is to majorly discredit it. It is more about the differences that arise out of love, marriage, passion, infidelity, shame, and, in one harrowing scene, violence. It is set to that most vibrant of backdrops- the Russian revolution- and takes the majority of its storyline straight from it.
The film is, as many old films are, confusing at first, with a number of characters who look fairly similar. It also starts with a rather long musical piece set to a blank screen, which was somewhat worrying as I thought the projection might be broken. This was not the case thankfully, and I soon forgot all about it as I became fully engrossed into the epic tale. Judging by the brilliant, booming musical score that sent shivers down my spine, I fully expected to be crying by the end of the film. I didn't cry, but felt emotionally drained, as if I had been crying for twenty years and my tear glands had finally died off.
I could write a million words on the themes within the film, but I don't want to, because I just want to tell you that you absolutely must see it. It will change the way you look at relationships. It will change the way you think about politicians who change their policies. It will change the way you look at issues which you currently look at one-sided, including political causes and romantic affairs. It wil quite simply change your life, and we must support Chapter for screening the full, uncensored, mighty three hours of incredible film.
Tom Morris
---
Brooklyn (2015)
As the charmed and cheerful audience made their way out of the wonderful Chapter Arts Centre, it was safe to say that Brooklyn was a certified hit; however, it may not have been for the reasons you would expect.
Following the story of Eilis Lacey – played with aplomb by Soarise Ronan – as she navigates the trials and tribulations of emigrating abroad by herself, Brooklyn is not just a period piece drama, but more importantly a character study, that has a refreshingly optimistic view of life, love and everything in-between.
Indeed, the general theme of the film could be considered 'life', as while the central romance between Eilis and Emory Cohen's Tony is excellently executed – if saccharine enough to make cynics worldwide cringe – it is more one piece that fits alongside all of the others in Eilis's life. From finding her feet in a city she's unfamiliar with, to dealing with the loss of loved ones, all of these events are introduced and dealt with in what seems like an incredibly short period of time; yet this deliberate pacing drives home the ephemeral nature of our lives, and how events will come and go without us realising just how much time has passed until we stop and reflect.
However, contrary to what you would expect, all of these moments in Eilis's life are tinged with optimism. Without giving too much away, there is a scene set around Christmas time, where she is helping the local priest with an evening for the unemployed Irish resident of Brooklyn, and despite their tough lives the evening is full of cheer. It is essentially a perfect summary of the general tone of the film. And it is a testament to the quality of directing, editing and writing that it is able to pull this off almost flawlessly.
Although, that being said, while the writing is for the most part solid, imbuing the film with a constant vein of wit and humour, the character of Miss Kelly is written like a pantomime villain that would not be out of place as the main antagonist in a Disney production. Although, it is impossible to deny that Brid Brennan did the character justice; a quality that can be applied to the cast as a whole, most notably, Julie Walters, Jim Broadbent and Domhnall Gleeson who all turned in brief, yet believable, performances. However, as good as the supporting cast are, their performances do not come anywhere near the level of Soarise Ronan's, it is perhaps one of the finest pieces of acting this year, her portrayal of Eilis feels not like a character, but a genuine human you could easily encounter in the street, and that is the highest praise anyone could give.
In short, director John Crowley has crafted a beautiful and understated character study, bolstered by an exceptional performance by Soarise Ronan and a hilarious script from Nick Hornby, which reminds you that while life might be a chore sometimes, it is never without its moments.
Adam Bown